Fishing At Harriswood Plantation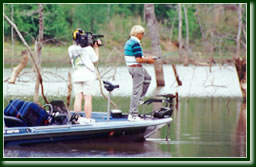 "A fine piece of water," was Jimmy Houston's description of Lake Nicole last year when his show on ESPN featured an afternoon of bass fishing at Harriswood. Stocked with Florida Bass, Blue Gill, and Copper-Nose Brim, the lake produces some of the most exciting bait casting or fly fishing ground.
Water size fluctuates between 8 and 14 acres, depending on rainfall and the time of year. Rods with spin-casting reels are available with limited tackle. Bring your own fly rod or special "bass buster" tackle for some relaxing midday enjoyment.